What with covid lock-down and my post prostate cancer treatment ED, it's been 3 months since my last 'test drive', which whilst nice, didn't reach a 'happy ending'. But with restrictions easing, bordellos reopening and my birthday and Christmas coming up, I felt I needed to see if I could finally reach that 'happy ending'!
With Cialis the night before, Viagra on the morning and an hour free in my carer schedule, I set off to visit a new (for me) establishment that had a couple of well reviewed girls.
Being a Monday, so soon after post restrictions reopening, there were only 2 ladies on roster. I selected Emma who seemed a bit more outgoing and her English was not quite as bad as the other girl.
I was barely undressed when she returned and directed me straight onto the bed. It was straight into cuddles and nipple licking. She pushed her enhanced boobs in my face and directed her very long erect dark brown nipples to my mouth. Kissing was very 'light', though I later found she has a strange style of putting her tongue out a little to 'kiss'. Later in the heat of passion it was more deep French kissing.
We had a little chat with her poor English. When she discovered that I was twice her age, she said that I looked younger. I explained that whilst my tongue was still young, the 'old fella' was definitely showing his age. Since my prostate cancer treatment, I explained that I had difficulty getting erections and seldom came. Since the vasectomy, 'No babies', and with roast prostate 'No creampies'! I need medication to help get it up and my cock-ring to keep it up once it gets hard.
She obviously took this as a challenge. She immediately swung round to go down on me and threw a leg over pushing her yummy pussy in my face. Well her oral technique was wonderfully effective. Her pussy is to die for. It's orientation was good in that I could alternate between licking and sucking her clit and labia, to deep tongue fucking.
When I looked up, I saw that the manager(?) had attached a piece of mistletoe to the end of the ceiling mounted mirror above us, not that I needed further encouragement in my Australian kissing!
I was getting a good response from her, so after a while I tried some fingering whilst I licked. I found her G-spot and she thrust back on my face and sucked harder like a hoover. I added a little rimming and with FIP and licking and sucking her clit, her body shuddered in orgasm.
Well our 69 must have lasted 15 minutes, when she finally came up asking "We fuck now?". Well we started with missionary with some breast work and more kissing. Whilst we had some good deep groin slapping fun, it wasn't really getting us there. So she swung around to the side so that we were joined in a sort of scissor position (a new one for me). In this position, my cock seemed to stimulate her clit and g-spot better and she said she came again.
She then swung round again to squat on me in the Asian cow-girl position. This really seemed to hit her spot again.
With 5 minutes left and I confirmed that I still hadn't come, she suggested a hand-job finish. I suggested it would be best if I did it myself, so condom off and lubed my hand. She rolled to one side and grabbed my left hand and pushed it under her pussy for some more fingering. I get 2 fingers in and the position is perfect. She leans over me to watch my hand work, then sticks her tongue out to lick my glans. We ended up coming together. She was surprised to see that mine was virtually a 'dry orgasm' with barely a half teaspoon of 'pre-cum' (toast prostate is virtually non-functional).
She claimed she came three times in all, though they were of the quiet gentle type, not body shaking, hip thrusting, nose punching type. But that's OK, I've seen (and tasted) all types (see "OMG, The Female Orgasm").
As I jumped in the shower, she came straight in with me and gave me a good all-over lathering and another little tug.
After we dried off, she proceeded to help me dress, then combed my hair. Nice little touches. As I was leaving, she repeated her name several times to make sure I remembered her (how could I forget a fuck like that).
Happy birthday to me and Merry Kissmas to you!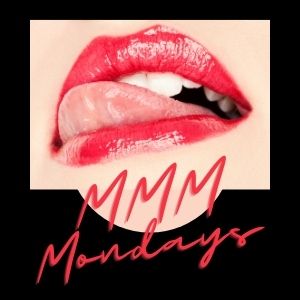 Click the badge to read who else is saying
"MMM" on Mondays!